The estimated reading time for this post is 115 seconds
In a startling revelation, Singaporean authorities have arrested 13 people, including two 15-year-olds, for their alleged involvement in a string of malware scams targeting Android users.
The Arrests
The suspects were apprehended during an anti-scam operation conducted by the Singaporean police between August 14 and 25. The group included seven men and four women, aged 17 to 25. Additionally, two other women and another teenager are currently assisting with the investigation.
The Scheme
According to preliminary reports, the individuals are accused of facilitating scams by providing access to their bank accounts, internet banking credentials, and even their Singpass details for financial gain. This marks a concerning trend where malware attacks on Android devices have been on the rise since January of this year.
Modus Operandi
Victims reportedly fell into the scam trap after responding to ads on social media platforms. They were then coerced into downloading malicious Android Package Kits from non-official app stores. Once downloaded, scammers were able to convince victims to enable accessibility features on their Android phones, giving the scammers complete control over the device. The result? Unauthorized transactions from the victims' bank accounts, even when no credentials were shared.
Masking the Crime
To further cover their tracks, the scammers could delete SMS and email notifications of bank transfers, making it harder for victims to detect the fraudulent activity.
Police Advisory
The police have issued a warning against clicking on suspicious links, scanning unknown QR codes, or downloading apps from third-party websites. Official app stores are strongly recommended, and users should be cautious when sharing personal information like Singpass and banking credentials.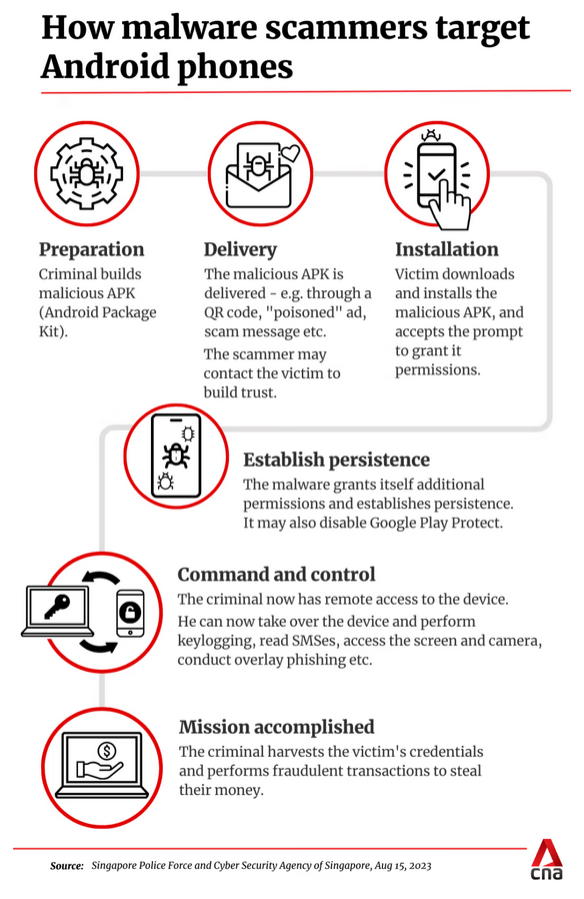 Previous Cases and Ongoing Investigations
Earlier in August and June, similar arrests were made, with victims losing more than S$221,000 (approximately US$164,000), including more than S$114,000 in CPF savings. Investigations are still ongoing.
Legal Repercussions
Convicts face harsh penalties, ranging from up to 10 years in jail and fines of up to S$500,000. Lesser charges include three years of imprisonment and a fine under the Penal Code, while others may also face charges under the Computer Misuse Act.
Conclusion
This case serves as a stern reminder of the risks associated with cybercrime, particularly targeting banking apps and sensitive personal information. Always adhere to safety guidelines and be cautious when dealing with offers or requests online.
Source: https://www.channelnewsasia.com/singapore/android-banking-malware-scams-teenagers-13-arrested-singpass-3726446