The estimated reading time for this post is 103 seconds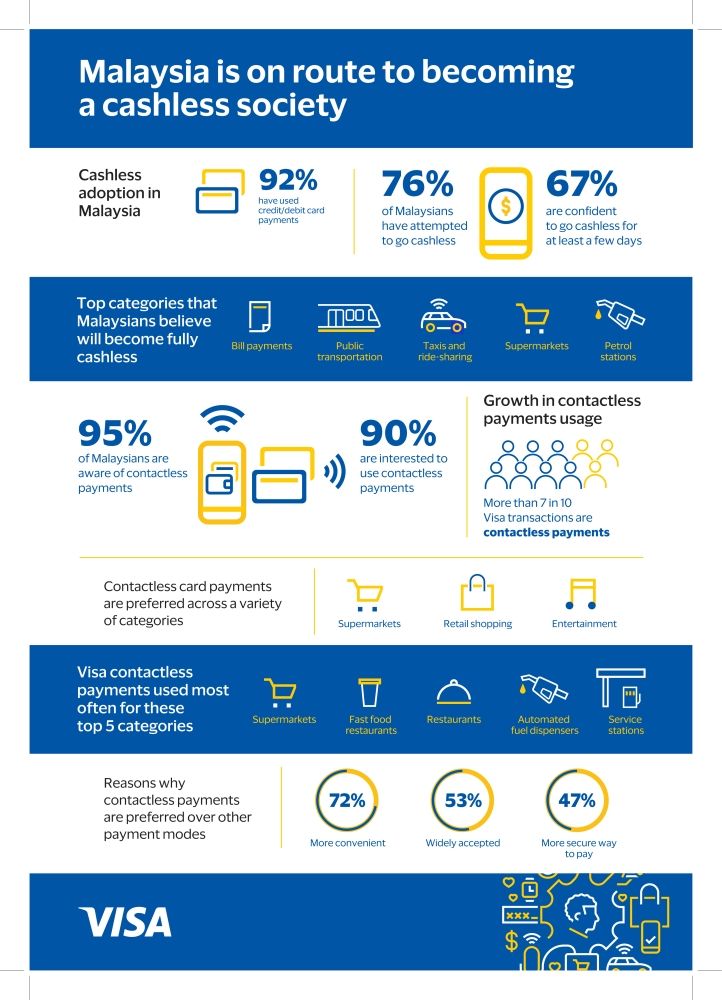 Malaysia is quickly becoming a cashless society, with more and more people turning to digital payment methods for their everyday transactions. According to a recent study by Visa, 92% of Malaysians have used credit or debit card payment, and 76% have attempted to go cashless. With the increase in adoption of cashless payment methods, it is no surprise that 67% of Malaysians are confident to go cashless for a few days.
The study also revealed that 95% of Malaysians are aware of contactless payment and 90% are interested in using it. Contactless payment is gaining popularity, with more than 7 in 10 transactions being made using this method. The top 5 categories that Malaysians prefer to go cashless for are bill payment, public transport, taxis and ride-sharing, supermarkets, and petrol stations.
The convenience and ease of contactless payment make it a preferred payment method for many Malaysians. The top 5 categories for contactless payment include supermarkets, fast food restaurants, restaurants, automated fuel dispensers, and service stations. The reasons why contactless payment is preferred are varied, with 72% citing convenience, 53% saying it is widely accepted, and 47% considering it a more secure way to pay.
The rise of a cashless society in Malaysia has many benefits, including increased efficiency, lower transaction costs, and improved security. With the increasing popularity of digital payment methods, businesses can improve their payment processes and provide a more seamless customer experience. This trend also has the potential to reduce the amount of cash in circulation, reducing the risk of theft and fraud.
However, it is important to note that not everyone has access to digital payment methods, and some may prefer to use cash. As such, it is crucial to ensure that there is still a cash option available for those who need it.
In conclusion, the rise of a cashless society in Malaysia is a positive trend that has many benefits for individuals and businesses alike. The convenience, efficiency, and security of digital payment methods make them a preferred choice for many Malaysians. However, it is important to ensure that cash remains an option for those who need it.